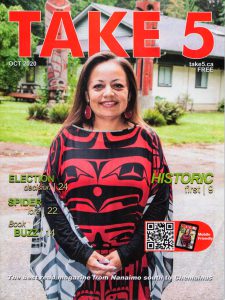 Summer Intern for Newsmagazine
TAKE 5 Print & Digital Media has an opening for a summer intern to assist in all aspects of publishing a monthly print and digital magazine.
Good communication, writing, and people skills are a must.
This is a rewarding position that will offer an intern experience in all aspects of publishing and community engagement.
To qualify the applicant must be enrolled in or a recent graduate (within 3 years) of a program related to the job at an accredited post-secondary institution.
$18.50/hour, 22 hours a week with a combination of in-office and remote work for 16 weeks starting June 5 to September 22, 2023 (or slightly later as needed).
Interested but not living in or near Ladysmith, BC?
The successful applicant can also apply directly to the Magazine Association of BC for assistance with moving costs, a rental subsidy, and business-related expenses associated with their work for TAKE 5 to a maximum of $2,125.
To apply, please email editor@take5.ca with a resume and cover letter. Position open until filled, or until June 10, whichever is first.