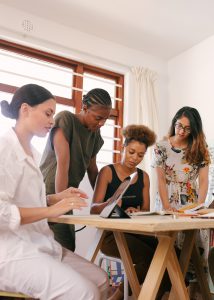 April 21, 2021 9:30 – 11:30 a.m. PT
With Elise Ahenkorah.
Member (AMPA and MagsBC) and student price: $20.00
Non-member price: $40.00
Register here.
Black, Indigenous and People of Colour have found it difficult to find representation in the media. At a time when media companies are looking to grow their businesses, it's unlikely that diverse audiences will be drawn to content that neither represents them nor reflects their lives.
Join AMPA, in partnership with the Magazine Association of BC, for a 120-minute workshop that will provide you with a practical understanding of why diversity, equity and inclusion are fundamental drivers of successful media organizations and how to embed anti-racism practices into your team's daily activities.
The session will cover how magazine publishers and staff can:
Develop strategic partnerships and find freelancers, contractors and suppliers that can help advance your publication's objectives around inclusivity
Find sources in an inclusive way
Identify practical ways to incorporate inclusion in hiring, promotion and advancement processes within your organization
Develop inclusive language for job descriptions and criteria
Identify leading resources to inform best practices for building inclusive and diverse media practices
Identify practical metrics to develop a baseline and progress for diversity, equity and inclusion.
---
Elise Ahenkorah is an award-winning entrepreneur, speaker and inclusion advocate. She is educated in Law & Justice, International Relations, and Change Management, and is completing her MBA in Strategy. She is also an alumna of Cornell University's diversity and inclusion strategic planning program.
As Principal and Inclusion Strategist for inclusion FACTOR, she designs data-driven strategies to build inclusive workplaces and communities for public and private sector-based clients across North America and the UK. Her clients include Saje Natural Wellness, Calgary Police Commission, Leftovers Foundation, IBM, University of Texas, City of Toronto, HRD International, University of Calgary, IABC, and the Law Society of Saskatchewan.
In her career, Elise has covered diverse ground in progressively senior roles in communications, marketing, stakeholder engagement, strategic planning, and DE&I for public and private sector organizations. In addition to her role at inclusion FACTOR, she is a Diversity, Equity and Inclusion Manager for Sobeys, a large Canadian food retailer.
No tags for this post.