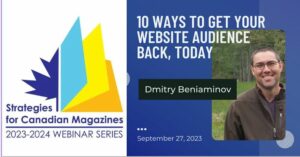 Strategies for Canadian Magazines — an initiative by Magazine Association of BC.
Join us on September 27,  2023 for our Canada-wide webinar: 10 Ways to Get Your Website Audience Back, Today with industry-leading developer and consultant Dmitry Beniaminov.
11 a.m.– 12 p.m. PST / 12–1 p.m. MST / 2–3 p.m. EST
MagsBC, AMPA, Magazines Canada, AQEM members, and students: $12 for one seat or $17 for two seats
Non-Members: $22 for one seat or $27 for two seats.
Canadian media brands have a "referral" problem these days, and even if things return to "normal", the smart money is on improving discoverability on other channels and addressing the issue of how sticky your website visitors are and how easy it is to convert them.
In this webinar, hosted by Joyce Byrne, Dmitry Beniaminov will review 10 ways you can improve your home page and user experience, boost your brand's newsletters, grow organic traffic, redefine your audiences, optimize your ad stack, and more.
Dmitry Beniaminov is the recipient of the National Media Awards Foundation's Digital Leadership Award (2020) and has worked with brands like Toronto Life, The Walrus, Canadian Cycling, Broadview and Avenue.
Joyce Byrne is Alberta Magazine Publishers' past President and an award-winning veteran of the Canadian magazine industry. She has led creative, marketing and sales teams and boards in Toronto, Edmonton and Calgary, and has worked on nearly every type of magazine.
More info and to register.
This webinar is brought to you by the Magazine Association of BC, Alberta Magazine Publishers Association, Magazines Canada and L'Association québécoise des éditeurs de magazines.