National Observer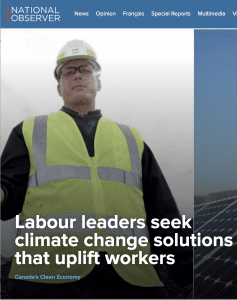 VPM: 60,000
Frequency: Daily
Contact: Janel Johnson, Engagement
Address: 414 – 207 W Hastings St, Vancouver, BC V6B 1H7
Phone: 604-336-1936
Email: janel@nationalobserver.com
Website: https://www.nationalobserver.com/
Facebook | Twitter
A new and independent publication, National Observer is a leader in reporting on the new economy and has major daily impact, protecting public health, human rights, the environment and holding Canada's government to its promises on climate change.
Publishing tough investigative reporting, in-depth analysis and daily news coverage, National Observer pursues stories about success, innovation and solutions, with a focus on the shift to a clean energy economy.
Other stories on the 2018 editorial calendar are: Truth and Reconciliation, toxins in rivers and threats to human rights. Our main offices are in Vancouver and Ottawa, with staff in Toronto, Edmonton, Calgary and Montreal.
National Observer's honours include a Michener Foundation citation from Canada's Governor General and the National Newspaper Award for business reporting.