WordWorks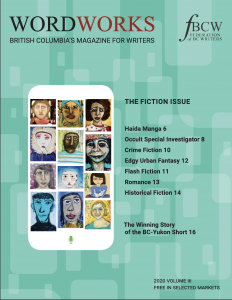 Circulation: 1,100
Frequency: 3 issues/year
Contact: Jessica Cole, Managing Editor
Address: Smithers, BC
Email: jessica@bcwriters.ca
Subscribe online at https://www.bcwriters.ca/subscribe-to-wordworks/
Website | Facebook | Twitter
WordWorks is published three times a year for members of the Federation of BC Writers (FBCW) and distributed by mail and email to a broad list of readers interested in literature in BC.
Published since 1980, WordWorks is edited and produced by the FBCW and a volunteer editorial board, with the content written by its members.
While it is produced by the FBCW, a provincial non-profit writers' organization with 800 members, the articles are aimed at writers in general and the magazine is circulated free of charge to 300 schools and libraries across BC.
A digital copy of WordWorks is freely accessible at www.bcwriters.ca/wordworks
Advertising: media kit.